Solar panels are used to generate electrical power from sun light. Panels in general are made from polycrystalline or monocrystalline cells. Those cells are made from substances in the fourth group of semiconductor materials.
As comparison between both of them, monocrystalline solar cells are higher efficient, more suitable for working in hot temperature environment, more expensive, but less sustainable for energy producing. While Poly crystalline is lower efficient as it is not made from single source of silicon, more suitable to work in normal average of temperature environment, lower cost, and longer sustainable energy production.
Both of cells types could be easily determined just by a look, as monocrystalline ones are darker in general and made from one material, so it is purer. While polycrystalline ones are mixed with other materials, so its color is less dark.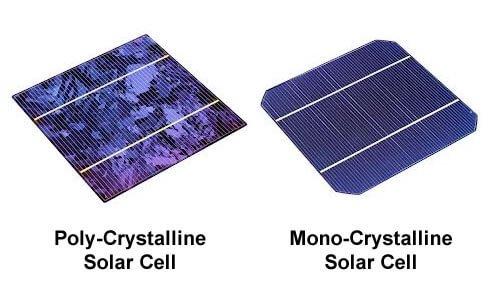 As a result, monocrystalline solar panels are more suitable to be used in places where there are limitations mounting area, while polycrystalline is more preferred for other uses, especially by taking in consideration the price cost, efficiency, and energy production life durability.
As in latest days technology polycrystalline cells are mostly used for outside street lighting and garden lighting. But also other properties of each that determine which one is more suitable to use in specific area rather than other, should not be skipped.